Mission Statement
In response to a strong culture of Black student activism, the Office of Black Student Development (OBSD) advances the experiences of all Black students, advocates for their needs, and fosters their personal and academic achievement through graduation and beyond. Through the development of innovative and sustainable programs and services aimed to increase the recruitment, retention, academic achievement, holistic support, and self-advocacy of our Black community, OBSD addresses the needs of the Black student community and holds ourselves and the university responsible to meet those needs. We strive to engage, develop, and activate these experiences to promote an inclusive campus experience that fosters a sense of belonging and leaders of social change.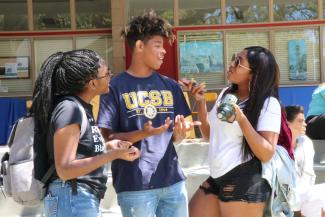 Office of Black Student Development (OBSD) Office Commitments
To ENGAGE purposefully with campus partners to support the academic, personal, and professional growth of our Black student community.
To DEVELOP talented student leaders who promote social change.
To SHARE and promote opportunities for academic research through an intentional community with academic units.
To ACTIVATE the campus community to respond thoughtfully on eradicating anti-blackness policies and procedures to promote a sense of belonging.